Portion Control Tool: Try The Meal Measure Plate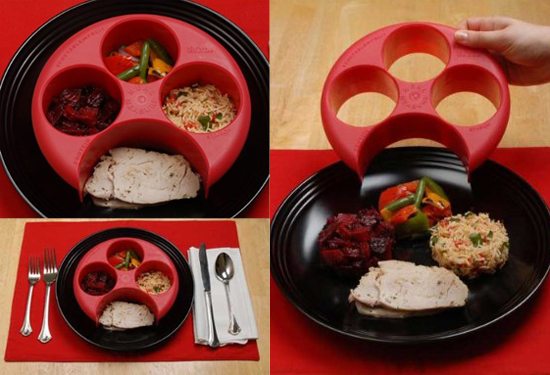 The meal measure portion control plate is an AMAZING post-surgery tool for any weight loss patient. Portion control is key to keeping your body in slamming shape! We were on the hunt to find you some amazing tools to make your portion perfect servings easier to create and simple to maintain and here's one of our favorites. Why spend time measuring and obsessing. We took the guesswork out of measuring.
Why we LOVE the Portion Control Plate meal measure pack! You can buy it direct from the Meal Measure company or on Amazon.
This comes with 4 distinct compartments pre-labeled protein, starch, vegetable and fruit.
It's DISHWASHER safe. No more mess!
It measures for you, there are half cup and one cup measures right on the product. With this meal measure, you're in control. Awesome!
COST– only 8 Bucks. Save money, time and lose the guesswork.
Weight Zen Nutritionist Megan's Thinking Thin Bonus Points: This comes with a protein, fruit, veggie and starch, but our slim tip is to replace the starch with a second portion of vegetables.
Megan's tip for the pasta lovers: Let's say you have chicken breast, asparagus and whole wheat pasta (fingers crossed it's whole wheat, but if not, that's ok we'll give you tips to get your palate more accustomed to whole grain goodies), because you opted for pasta, serve two portions of asparagus or add in another veggie INSTEAD of the fruit. Why? It's easier to overeat your starches (and trust us we know you weren't thinking brown rice). Also after the surgery you want to MAKE SURE YOU MAXIMIZE your vitamins and minerals and vegetables are super packed with awesome nutrients.
Megan's tip for the sweet tooth dessert lovers: Let's say you have chicken breast and blueberries topped with sugar free whipped cream, either double the asparagus or choose another vegetable. Why? A sugar high is more likely to stick to your thigh, because let's be honest if you eat some pasta (even if it's whole wheat) with the blueberry dessert, it's a lot of carbs and less of the vitamins we need you to get. Have a question, or want us to help? Fill out the below form:
"*" indicates required fields
https://www.weightzen.com/wp-content/uploads/2016/01/mealplannerplate.jpg
375
550
Irene McGee
https://www.weightzen.com/wp-content/uploads/2019/12/SmallerLogo.png
Irene McGee
2015-02-20 11:39:46
2018-02-27 19:32:15
Portion Control Tool: Try The Meal Measure Plate